Products
Product categories
Product shipping classes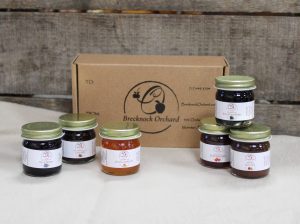 Jelly Sampler Gift Box
Jam Sampler Gift Boxes are perfect gifts. Your choice of six jams fit perfectly in the gift box. Easy to mail, give to co-workers, teachers, the delivery man, and hostess gifts.
Choose any selection of six jars including customer favorites like strawberry, apple butter, and black raspberry. Each jar is 1.5 ounces which is approximately 2 servings.
Resetting the box will remove all the added products.
Expand Box
Apple Butter – 1.5oz
$

3.00

Peach Butter – 1.5oz
$

3.25

Pumpkin Butter – 1.5oz
$

3.25

Black Raspberry – 1.5oz
$

3.25

Blackberry Spreadable Fruit – 1.5oz
$

3.00

Blueberry Spreadable Fruit – 1.5oz
$

3.00

Elderberry Spreadable Fruit – 1.5oz
$

3.25

Grape Spreadable Fruit – 1.5oz
$

3.00

Peach Spreadable Fruit – 1.5oz
$

3.00

Hot Pepper Jam – 1.5oz
$

3.00

Peach Apricot Spreadable Fruit – 1.5oz
$

3.00

Red Raspberry Spreadable Fruit – 1.5oz
$

3.25

Strawberry Spreadable Fruit – 1.5oz
$

3.25

Apple Butter - Sugar Free – 1.5oz
$

3.00

Triple Berry Spreadable Fruit – 1.5oz
$

3.25

Strawberry Rhubarb Spreadable Fruit – 1.5oz
$

3.00

Sour Cherry Spreadable Fruit – 1.5oz
$

3.00

Strawberry Preserves - Juice Sweetened – 1.5oz
Out of stock
$

2.50

Apple Cider Jelly – 1.5oz
$

3.00

Strawberry Butter – 1.5oz
$

3.25

Pear Butter – 1.5oz
$

3.25